David Bowie: Addio White Duke
Written by londononeradio on 7th February 2016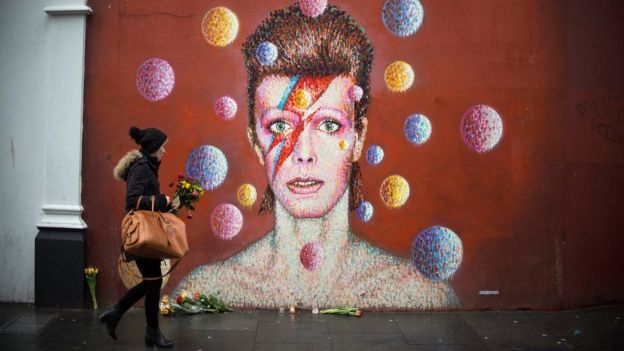 David Bowie lost his battle against the cancer but his unforgettable songs will remain alive in all of usToday is a sad day for the world of pop and rock music, in fact after years of fight unfortunately "The Duke White" David Bowie has not resisted at the cancer that struck him.
With his death David Bowie leaves an enormous empty not only between his several fans and the members of his family but in all of us because his songs have been really signing half century of the history of world music.
The unforgettable messages of his iconic songs will live for ever with us because their deep meaning it's impossible to be forgotten. Might David Bowie lost his personal battle against the cancer but the memories linked to his achievements cannot be beaten.
The White Duke, born and raised in Brixton, a borough located in South London, has been one of the most popular: singer, songwriter, multi instrumentalist, artist and painter of the recent history of United Kingdom. His long and successful career across the world began during the 1960s with his first hit song "Space Oddity" thanks at which reached the top five songs of the UK Singles Chart.
Since that fortunate launch, his career went always increasing: first with the popular songs "Life on Mars" and "Heroes", after with other famous songs like: "Let's Dance", "Ashes to Ashes", "Magic Dance" and "Modern Love".
He will be remembered as absolute initiator of a new and suggestive musical genre, because he never has been linked to a single genre but he always tried to change the rules of his contemporary music creating, time by time, a successful  mix of new genres.
He was a pioneer of the concept of Sound and Music and his songs are fantastic mix of several different musical genres together. Over his long career David Bowie played experimental rock, alternative rock, pop music, electronic rock and finally Glam and Art rock, being always able to render every song saleable for the market.
Today is died a great artist but his musical production has been so wide and his messages so deep that the people will remember him for the eternity.
---
Reader's opinions
---